Acqui Terme
Acqui Terme is a town of 20,566 inhabitants in the province of Alessandria.
Acqui Terme is located in the south-eastern upper Monferrato on the left bank of the river Bormida, which, after the confluence of the two branches of Spigno and Millwall, opens the way toward the plain of Alexandria, between gently rolling hills.
The oldest is the Pisterna Village, adjacent to the New Village and the Borgo San Pietro together represent the current center of the city, which was then gradually went towards developing both the plain towards the hill. In more recent times, and beyond the river Bormida has developed the spa area and the bathrooms, with the Hotel Antiche Terme, home to a large park, and many spas hotels.


Monuments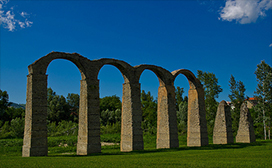 The Archi Romani (Roman Aqueduct)
Carlo Alberto visible from the bridge or by walking on the river Bormida, are the remains of a Roman aqueduct consists of 15 pillars and arches 4. The structure, one of the symbols of the city, dates back to imperial times; The pipeline was originally 13 km long and drew water from the river Erro. It is one of the best preserved structures of its kind in Italy region of the northern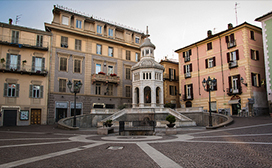 La Bollente
The first place to visit for those who arrive in the city is Piazza della Bollente. Here, at the center of the square, is placed a kiosk octagonal marble, built in 1879 by architect John Cerutti, surrounding a thermal spring from which flows the boiling water and curative: 560 liters per minute at 74.5 ° C water rich in sulfur, salt, bromine and iodine.
Monferrato
The Monferrato is a historical and geographical region of Piedmont.
Its territory almost entirely of hills, lies mainly in the provinces of Asti and Alessandria and extends southward from the right bank of the Po until you reach the foot of the Ligurian Apennines on the border with the Province of Genoa and the Province of Savona.
Also confused with other geographical regions of Piedmont and historical belonging to the Province of Cuneo, ie the Langhe and Roero.
Other important monuments to visit:
- The Swimming Pools Roman
- The Cold Source
- The Cathedral
- Piazza Italy, with its fountain
- The Pisterna
- The Archaeological Castle (Castle Palaeologan)
- The Cathedral and the churches of the city
- The Castles of Alto Monferrato
Other activities
- The Spa "Lago delle Sorgenti"
- The Spa
- Cycle track (4km AR flanked by a pedestrian path)
- Wine Bars and Wine Shops in our area
- Iitinerari landscape on foot or by bicycle
- Sea at 50 Kilometres